October 2016

Dear Ladies and Gentlemen,

Welcome to the October edition of our Global Carsharing Update.

In this edition, team red conducts an interview with Sharon Feigon, Executive Director of the Shared-Use Mobility Center (SUMC), a public-interest partnership working to foster collaboration in shared mobility and help connect the growing industry with transit agencies, cities and communities across the USA.

Discover our news on the expansion of electric carsharing in Europe, who is out of business, who is about to launch new services and what are the other growing numbers of carsharing business worldwide.

Best regards,
Dr. Bodo Schwieger
CEO team red

---
---
car2go hits the 2 million member milestone (Worldwide)
car2go, the carsharing service offering one-way trips in cities, needed five years to sign up its first million members. The second million required only 21 months. The company's most popular cities are Berlin and Hamburg, both of which have more than 130,000 members. The membership base in Chongqing, China, where the service launched less than six months ago, has nearly surpassed car2go's fifth most popular city, Vancouver, which launched in April 2011.
Read more: Press release (pdf)
Electric carsharing expands in Rome (Italy)
Since the 1st of October the fleet of e-carsharing operator Share'N Go in Rome counts 400 electric vehicles and the operating area of the free-floating service in the capital has been doubled. Meanwhile, a new electric carsharing project, "e-go", has been launched for students and employees of the University Roma Tre. After the test phase, the service is going to be fully available from 16 October with a fleet of 20 Renault Twizy and 10 Renault ZOE.
Read more: Share'N Go



Read more: e-go


PSA Group extends its presence in carsharing in France and North America
The PSA Group extends its partnership with Bolloré in carsharing services, expanding the Bluely and Bluecub carsharing fleets in Lyon and Bordeaux, France in November. PSA also recently announced its minority share acquisition of Communauto, a Canadian-based carsharing service, currently operating in seven Canadian cities and in Paris, France.
Read more: partnership Bolloré
Read more: share acquisition Communauto
GM's Maven launches new services in the US and soon available in Brazil
General Motors's Maven carsharing service has added one-way service in Ann Arbor, Detroit and at Detroit Metro Airport. GM and Maven say the new service is the cheapest way to get from downtown Detroit to Metro Airport. Meanwhile, GM continues to test its carsharing service among its employees in Brazil, but soon, the program will be implanted in a residential subdivision in São Paulo and also in the city of São Caetano do Sul, in the same state, where the company's headquarters is located.
Read more: Detroit
Carsharing expanding in Croatia
Since the end of June, Spin City, the first carsharing company in Croatia, has been operating in the capital, Zagreb. The operator offers a free-floating service with 30 VW Up vehicles, 10 of them electric. In the first 90 days, since the official launch, the service has been used by 570 drivers and each week the number of users is growing by 10 to 15 percent.
Read more...
Spin City website

Toyota to expand its carsharing initiative to Italy
After Dublin, where the programme was launched in June, Toyota has chosen Forlì in Italy as the second location for YUKO, its new carsharing initiative. The first "100% hybrid" carsharing in Italy is going to be rolled out in mid-November with a fleet of 7 Toyota Yaris Hybrid.
Read more


Ford to close GoDrive carsharing service in London (UK)
GoDrive, the carsharing programme by Ford, will no longer be available from October 31st. The service launched in May 2015 with 50 vehicles, including several Focus electric models, located across central London.
Read more...
More EVs for carsharing fleets in Berlin and Karlsruhe (Germany)
Due to a growing demand, the Citroën carsharing operator Multicity expanded its fleet of electric vehicles in Berlin. 100 new C1 are available for the users since the 1st of October, in addition to the current 250 C-Zero. Another French car manufacturer, Renault, will provide the District of Karlsruhe with 34 ZOE for its e-carsharing project "zeozweifrei unterwegs".
Read more: Berlin



Read more: Karlsruhe


GoCar launches the GoElectric fleet (Ireland)
Ireland's leading carsharing initiative GoCar launched this week its new GoElectric range in partnership with BMW. In addition to the 160 vehicles, the operator will include a fleet of ten all new BMW i3 electric vehicles, which will be available to the public at ten locations across Dublin City. The launch of the GoElectric BMW range marks the next step in GoCar's continued promotion of convenient and environmentally friendly driving.
Read more...
DriveNow and Bolloré ready to launch in Italy
October is the month of new carsharing arrivals in north Italy. BMW and Sixt will officially launch DriveNow in Milan on the 19th of October. The operator is going to deploy 480 vehicles, BMW and Mini models, for its free-floating service and some electric vehicles will be added by the end of the year. Just few days later, 24 October, Bolloré Group will start with Bluetorino, the first 100% electric carsharing in Torino. The aim is to expand the initial 23 charging stations and 60 Blue Cars to 80 stations and 150 vehicles.
Read more: DriveNow



Read more: Bluetorino


---
What do you see as the most promising opportunities to bring new/shared mobility to low income communities?
Equity issues continue to be a big problem. Access to jobs is critical for improving economic wellbeing, and many cities lack affordable and efficient transportation services to help residents in disadvantaged communities reach job centers, which can often be located in distant suburban settings.

At the same time, there are promising solutions on the horizon and experiments with expanding modes such as bikesharing, ride-splitting and bus rapid transit that can improve this disparity. There has also been some recent progress in addressing technology gaps, such as developing systems to accept cash payments and launching "concierge" services, that can help better serve these communities.

For instance, many residents in low-income neighborhoods do not have access to credit cards or bank accounts. To address that barrier, cities such as Chicago and Philadelphia have started allowing qualified participants to pay for bikeshare memberships using cash via intermediaries. Even ride-hailing services have begun exploring cash payment options. For example, Uber riders in India can now pay with cash. Another important advancement is the growing use of concierge services to help book ride-hailing trips for people who don't have smart phones or are not tech savvy.

The Shared-Use Mobility Center (SUMC) has also continued to do our part to help find solutions to expand the benefits of shared mobility for all. We are currently working with the City of Los Angeles to place electric carshare cars and vehicle charging infrastructure in disadvantaged communities in Los Angeles, and with carshare provider Getaround to study peer-to-peer carsharing in low-income and low-density neighborhoods in Chicago.

We haven't solved all the problems yet, and access to shared mobility and transportation in general is still a major issue, but it's encouraging to see that progress is being made.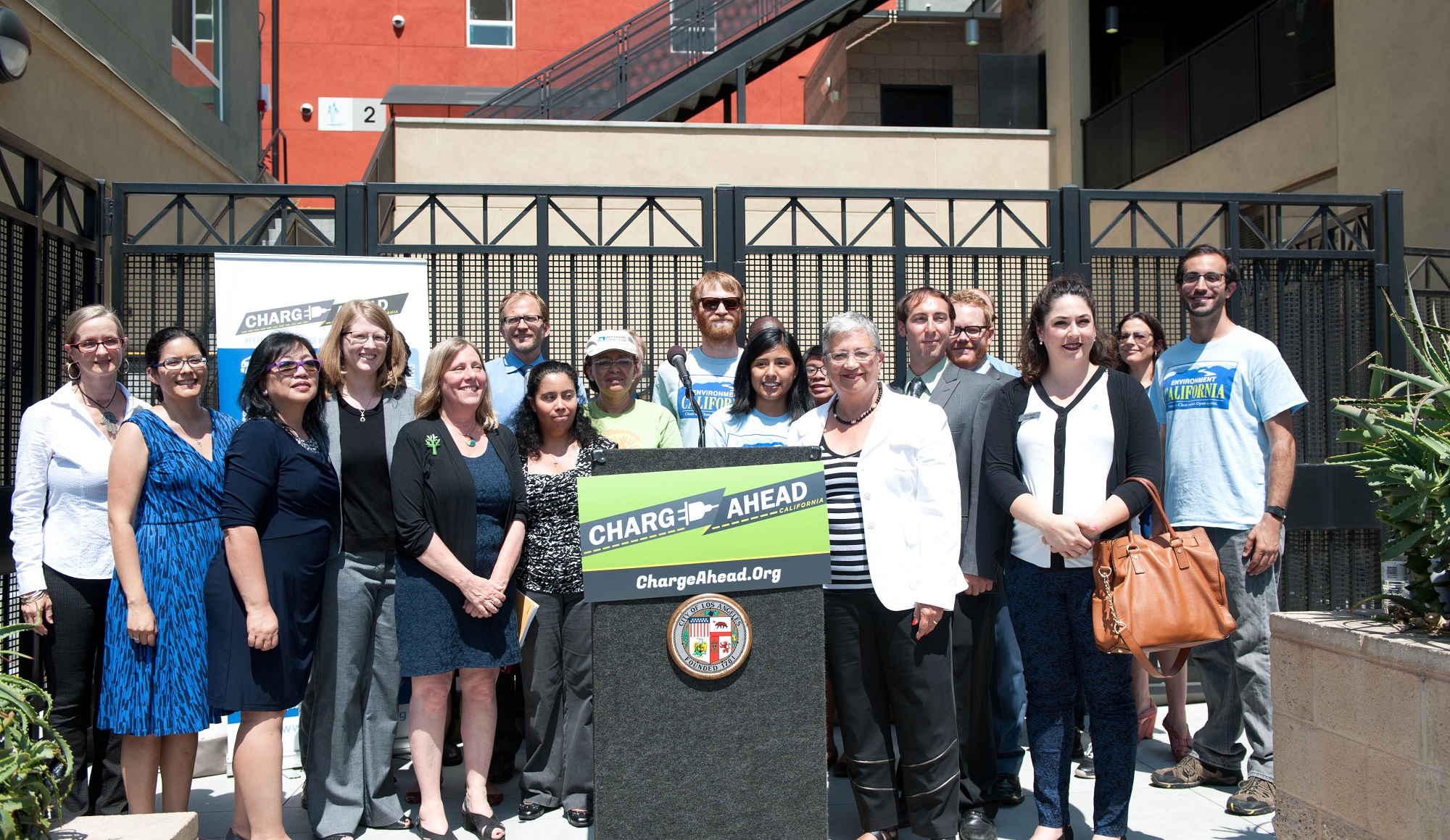 Launch of the EV carsharing pilot in Los Angeles in 2015 (Source: Shared-Use Mobility Center)
We haven't solved all the problems yet, and access to shared mobility and transportation in general is still a major issue, but it's encouraging to see that progress is being made.
What cities are doing the most interesting things to promote shared mobility, and what should be emulated by other cities?
First, I'm really encouraged by the number of ballot initiatives this fall to increase funding for public transportation. From Measure M in Los Angeles to initiatives in Atlanta, Seattle and Detroit, we're seeing growing support and demand for public transit, which is vital. People need to realize that transit is the backbone that allows all these other forms of shared mobility to flourish.

Second, we're starting to see some really innovative policies and public-private partnerships spring up across the country. Seattle has passed an ordinance that will provide on-street parking for up to 3,000 carshare cars, which is just huge. Uber and Lyft have also recently initiated some new first/last mile pilots with smaller cities such as Centennial, Colorado and Summit, New Jersey, which will help to extend the reach of existing transit while reducing reliance on private autos and mitigating the need to build additional parking.
You have been involved with Shared mobility for many years - What are you most excited about today? Is it technology, government initiatives, new service models?
A lot of these ideas were seen as really fringe when I got started as the CEO of IGO Carsharing. Nobody thought people would willingly share a car. So it's wonderful to see the shared mobility concept take root, and to see it start to scale in cities like Seattle. It's also exciting that the integration of these various systems is starting to happen.

From SUMC's perspective, it's been great to do these amazing studies with the Transportation Research Board (such as the recently released report on Shared Mobility and the Transformation of Public Transit) and to see the federal government start to come alive on these issues. We also recently completed a Shared Mobility Action Plan for Los Angeles County with significant support from the City of Los Angeles, LADOT, LA Metro, and the private market. We talked about taking 100,000 cars off the road, and the fact that we actually had some people ask us afterwards why we didn't set higher goals was a welcome surprise. I'm looking forward to continuing our work in LA as well as creating action plans in more and more cities to scale up shared mobility and reduce reliance on private cars.

Finally, we will be talking about all these issues and more at the 2016 National Shared Mobility Summit in Chicago on October 17-19. We hope everyone can join us there!
---
team red's Global Carsharing Operators Report
If you are interested in receiving a free copy of the 2015 team red's report on carsharing business, based on a comprehensive database of operators, please contact us by email.
Oct 2016: National Shared Mobility Summit
Join the 2016 National Shared Mobility Summit in Chicago (USA) on October 17-19 to discuss the latest developments in carsharing, bikesharing, ridesourcing, microtransit and more.
Read more...
Oct. 2016: World Mobility Summit 2016
The World Mobility Summit 2016 - "MOBILITY 4.0: Electric, connected and autonomous" will be held in two sessions (eMove360° and eCarTec Conference) on October 18-20, 2016 in Munich, Germany.
Read more...
Nov. 2016: 2nd International Conference on Future Mobility
Autonomous vehicles, connected modes of transportation, and energy efficient commuting are among the hot topics at the 2nd International Conference on Future Mobility, which will be held in Dubai (UAE) on November 14-15, 2016.
Read more...
Dec. 2016: Annual Polis Conference
This year's Annual Polis Conference on "Transport innovation for sustainable cities and regions" will take place in Rotterdam (The Netherlands) on December 1-2, 2016.
Read more...
Jan 2017: TRB 96th Annual Meeting 2017
The Transportation Research Board (TRB) 96th Annual Meeting will be held in Washington, D.C. (USA) on January 8-12, 2017.
Read more...
May 2017: Global Public Transport Summit
The biennial Summit, organised by UITP (the International Association of Public Transport), will be held in Montréal (Canada) on May 15-17, 2017.
Read more...
---
Consulting
Experts on Shared Mobility
Survey
Join our Global Carsharing Operators Survey
Travel
Visit Berlin's Mobility Operators
Global Carsharing Operators
Buy our comprehensive database of worldwide carsharing companies
Global Carsharing Technology Suppliers
Buy our comprehensive database of technology suppliers
Global Carsharing Update Newsletter
Subscribe
Read previous editions